In The Groove (PC / Mac) Dance Game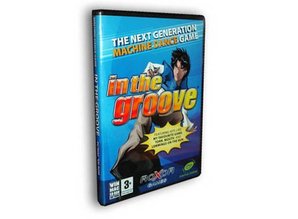 Contactez-nous à propos de ce produit
Ajouter à la liste de souhaits
Ajoutez votre évaluation
Description du produit
---
In The Groove® has more songs and more features than ever before! ITG for PC/Mac is the perfect machine dance game for new players and expert players alike, with five difficulty levels, a fitness mode, and popular music by signed artists and rising music groups from around the world. The game is easy to learn, totally addictive, great exercise, and fun for all ages. In The Groove features:
Over 80 songs: more than two hours of great dance music
Over 100 unlocks: try to unlock all of the songs, courses, modifiers, and step charts
5 levels of play: perfect for novices, experts, and everyone inbetween
1000s of modifier combos: make the arrows scroll exactly how you want
Full motion video backgrounds
Exclusive PC/Mac features:
Several unlockable, exclusive PC/Mac songs
Full step editor with USB drive import/export for use with In The Groove 2 in arcades
High resolution graphics
Support for widescreen displays
Full language translations for English, Spanish, French, German, and Italian
Whats new in ITG PC/Mac compared to ITG PS2?
many new unlockable songs, including PC/Mac exclusive songs
many new step charts exclusive to PC/Mac
more unlockable courses and mods
a full step editor for creating your own step charts
export and import step charts from a USB drive for use with In The Groove 2 in arcades or for sharing your creations with friends
support for widescreen displays
high resolution graphics
improved frame rates and faster loading (depending on how powerful your computer is)
unedited versions of all music - the same mixes as the arcade
7 Modes of Play:
Dance: The traditional mode of play. Dance for fun, or compete for personal or machine top score.
Battle: Play against a human or computer opponent in a tug-o-war meter competition. Confuse your opponent with arrow modifiers while fending off attacks.
Marathon: Play songs nonstop and try to survive our tricky scripted modifier sequences.
Tutorial: New players can try our hands-on tutorial and learn the ropes.
Fitness: Stay in shape by keeping track of your daily routines and tracking the amount of calories you burn. Choose between One Player, Two Player or Double Fitness Modes.
Training: Practice towards hard-to-reach goals with features that allow you to select tricky sections and even slow down the rate of the song!
Editor: Create new steps for your favorite songs, and then export them to a USB key to take to the arcade!
Informations complémentaires
---
| | |
| --- | --- |
| Fabricant | 3rd party |
| Compatible avec | PC and Mac |
| Adapter | 3in1 control box (PS2, Xbox1, PC USB) |
| Driver | Non |
| Power source | directement d'un PS, PS2, XBOX ou PC USB |
| Matériel de flèches | Non |
| Raised or Recessed arrows | Non |
| Dimension du metal pad | Non |
| Non slip bottom | Yes - EVA Foam no slip bottom |
| Poids net | Non |
| Poids brut | Non |
| Barre | Non |
Aucune spécification n'a été trouvée...
Ajoutez votre évaluation »
Aucune évaluation n'a été trouvée...